Security Technology Integrators
Video Surveillance
Alarm Intrusion
Access Control
Video Surveillance
"Camera technology is only as good as what the lens sees"
NASS offers the best-in-class video products both networked and cloud based. Our team is both certified in the technology and trained in design, placement, and coverage.
Alarm Intrusion
Access Control
Leading in Security Integration
As your integrator, it is our job to work with you in choosing the best equipment for your projects. 

There are so many products on the market, however NASS believes in choosing the best ones for our client's applications and needs. We don't have exclusive deals with manufacturers that encourage leading with specific products. Our manufacturer partners highlighted below.
PHYSICAL SECURITY CONSULTING SERVICES
Highlights: Excellent data capture for ATM and teller transactions, hot-swappable drives, and serves banking & retail 
In early 2000 the company we were partnered with was called Lanex. They were purchased by Verint in the mid-decade. From the beginning, Lanex was a pioneer at the start of the digital video recorders birth. They built an embedded DVR that was specifically designed for financial institutions. Their innovations included video thinning (to save precious hard drive space), three-tiered video archiving for ATM and event transactions and best of all, their data capture interface. This made it extremely easy for bank fraud investigators to quickly search for ATM transactions to solve Reg E. claims. 
Verint kept the tradition of catering to the financial community and added features such as hot-swappable hard drives. This allowed field service technicians to easily replace or add hard drives in the field. Although a lot has changed and issues such as video storage are not as big a challenge, they still maintain one of the best data capture interfaces for juxtaposing video with customer transactions.
Highlights: Global leader in surveillance camera manufacturing. Excellent product line with best-in-class warrant
Hanwha Techwin is a leading manufacturer in the security industry, demonstrating consistent growth for more than 40 years. Hanwha Techwin is part of the Hanwha Group, a Fortune Global 500 company and one of the largest conglomerates in South Korea. In operation for over 60 years, the Hanwha Group has gained manufacturing expertise and in-depth market knowledge in producing the highest quality, precision products serving the aerospace, defense and security industries. Hanwha Techwin offers a comprehensive line of security and video surveillance solutions which include IP cameras that support up to 8K resolution, a video management system, video and audio analytics, multi-sensor technologies and device integration with a host of 3rd party application providers.Our intelligent surveillance solutions are used globally, securing people, property and data across a range of industries including retail, transportation, education, banking, healthcare, hospitality, airports and more.

Highlights: Easy to use interface yet very scalable. A powerful set of software tools and service friendly
Exacq Technologies is part of the Security Products business unit of Tyco (NYSE: TYC), the world's largest pure-play fire protection and security company. Exacq is a leading manufacturer of video management system (VMS) software and servers used for video surveillance. Known for its ease of use, the exacqVision VMS software is available on factory-installed hybrid and IP camera servers, commercial off-the-shelf servers and directly installed on approved IP cameras. exacqVision offers a solution for every deployment from small, single-camera systems to large, scalable systems. Every exacqVision server includes the cross platform server and client software, plus the exacqVision web service which enables the web browser client and the free Exacq Mobile app for iOS, Android and Windows Phone 8 devices.
Highlights: Excellent user interface in (searchlight), good cloud capabilities, PDA integration 
March is a great platform for multi-site retail enterprises. They make a solid embedded DVR that networks quite nicely. What makes them shine however is the Searchlight user interface. "By integrating high-quality surveillance video with POS transaction data and business analytics, Searchlight reduces investigation time from hours to minutes, and alerts franchisees about things like instances of potential theft; transactions being conducted with no customer present". 
NASS has successfully installed hundreds of March systems over the last two decades. We've deployed them in various applications such as multi-site retail franchises, transportation authorities and bank cash vaults. 
In October 2021, March announced it will be acquired by Delta, a global leader in power and thermal management solutions. We will keep a close eye on this and hope to see good things.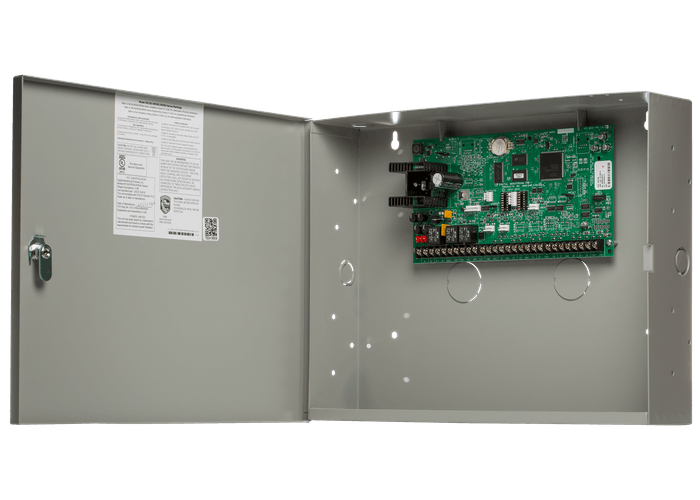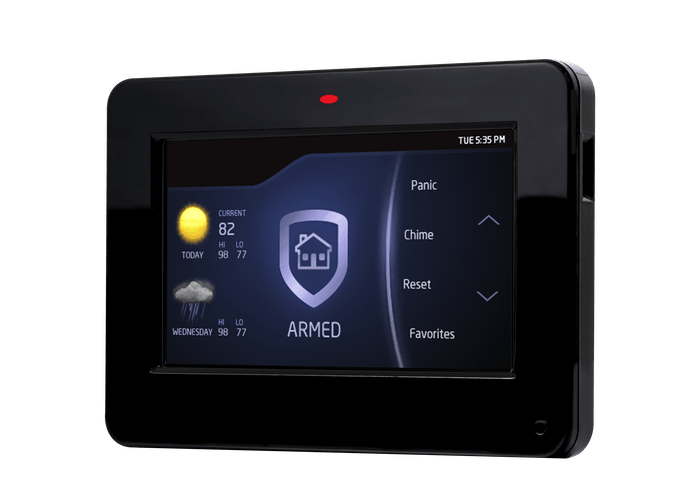 Highlights: Strong in Retail Banking, good technical support, headquartered in USA 
DMP has a track record of developing innovative security products. They are U.S. based and have excellent tech support. 
NASS is a certified dealer and has installed thousands of their products. We have partnered with them because they have superior alarm panels for retail banking. They support this vertical market and have captured a large market share. 
Our lead product for Retail Banks is the XR550. 
Highlights: Cost effective, integrates seamlessly, robust access control systems
Access control companies come and go. The problem for integrators is that a are mainly a proprietary platform. When we come across a customer with a widely used access system, we need to first ask…How will this integrate with other well respected security products? We have found AMAG implemented at several of our client's command centers. We were pleased to discover that in addition to providing a robust access control system, they do integrate nicely. We found their partner program to be supportive and made the leap to become certified partners.  
Symmetry Business is a cost effective access control solution for smaller applications. Available only in the US and Canada, Symmetry Business uses the EN series controllers and works with Symmetry Complete View Video Management to provide a complete security solution. 
Redundancy – NASS is always prepared with true redundancy—
we're equipped with three UL Listed, FM Approved monitoring
centers located throughout the U.S.
Our centers are connected using the latest in communications technology, allowing us to load balance by redistributing operator resources during spikes in alarm activity. The monitoring centers are linked together and operate as one virtual central station to help provide stability.
The monitoring applications we use allow real-time signal traffic management. This feature enables greater flexibility for monitoring supervisors who can shift technical and labor resources between centers during peak activity. We can ensure fast and consistent response times on our full complement of services. Customers can rest easy knowing our infrastructure is enhanced by geographic diversity and real-time signal balancing.
Disaster Recovery – We've seen just about every scenario over the years. NASS has the experience and facilities to keep things running 24/7 in the face of any storm or disaster.
Our infrastructure is like no other in the business and have a tested disaster recovery plan in place. Each of our three centers are backed up by two generators and uninterruptable power supplies. Our alarm monitoring supervisors are prepared to route alarm signals to our other central stations across the country, if necessary. In the event all three of our centers become inoperable we always have a contingency team prepared to work remotely.
Physical Security – Foreseeable risk situations can be costly to any financial institution or high – profile facility. Assistance can be provided in developing your personalized security plan. A physical security survey can be conducted to validate your current security plan or identify any foreseeable risk
situations. Recommending the appropriate security product(s) can save thousands of dollars in unnecessary equipment purchases.
Staff Training – Training is the first line of defense against financial crimes. Training can be conducted in robbery awareness, fraud recognition, violence in the workplace, personal safety and other security issues.
Emergency Preparedness – Being ready for any emergency should be paramount in the minds of any financial institution. It could be as simple as an Emergency Evacuation Plan or as complex a preparing for a major event that could impact a large geographic area.
Pre – Litigation Investigation – Violent crimes or accidents on your property will probably generate a lawsuit. Expert testimony in the event of a lawsuit aimed at your institution can be invaluable in your defense. The helps avoid the dangers of increased liabilities by having untrained staff testify. Investigation of the merits of your defense and verification that your practices are in accord with the Bank Protection Act can also be provided.
New Age Security Systems is a licensed dealer for Verint, Hanwha, DMP, Amag, and other leading brands.
New Age Security Systems is an authorized service provider and low voltage contractor (License number 795391).
PHYSICAL SECURITY
CONSULTATION
SERVICES
NASS's leadership is rooted in technology. We've led the industry, not only in certifications, but in finding solutions. Our clients have asked us to find answers to problems such as Dual Control, ATM Imaging, Skimming issues and Guest Access. We've responded with customized Key Nesting, Biometrics and Remote Door Unlock. NASS often partners with MFG's to tailor fit products as with our award-winning advanced ATM/TCD cameras.
We limit the brands we use to ensure we have full certification and the best trained techs available. We don't have exclusive arrangements with MFG's that promote proprietary systems and we don't brand any products with our logo. We believe the equipment should sell itself and not be proprietary.